Contouring is one of those makeup techniques that can seem really intimidating, especially when you see those face charts with a zillion stripes and triangles.
I promise you though, it's actually really easy once you know where and why to contour certain areas and know the best product for your skin type and skin tone.
When done properly, no one will even know you've contoured your face, it will enhance your natural bone structure, and it should take you less than a minute.
If you are looking for product suggestions, I've added my favorite contouring products at the end of this post!
HIT PLAY OR CLICK HERE TO WATCH ON YOUTUBE
WHAT IS CONTOUR
Foundation evens out tones in skin and creates a beautiful base for the rest of your makeup. Contour adds shadow and depth back in to your skin.
If you were painting, think of foundation as the canvas and contour as the shadows. Shadows give a painting life and make it seem real.
TYPES OF CONTOUR PRODUCTS
Textures | Generally, contour products come in two textures: cream, and powder.
Order of Application | Contour products are applied after foundation and concealer, and before bronzer, blush, and finishing powder.
Which Formula Is Best For You | Cream textures look very natural as they tend to blend easily with most skin types and become like a second skin. I love cream contour for everyday makeup, as it's almost impossible to see or spot on the skin when it's blended properly.
Contour powders add extra impact and can look amazing in photographs. They can even be layered over a cream contour for extra definition. The powder texture can sometimes be a bit harder to wear on dry or mature skin, but applied lightly, is definitely doable.
CHOOSING YOUR SHADE
Most contour products will come in a few shades: light, medium, or deep. Finding the right shade for your skin tone is one of the most important parts of contouring!
Choose a contour shade only 1-2 shades deeper than your skin tone. It also should be slightly cooler than your foundation. You want the shade to look like a true shadow.
Related Post | How To Figure Out Your Skin + Under Tones
WHERE TO CONTOUR
The key areas to contour for most people are the center of the cheeks, around the forehead, underneath the chin and jawline, and down the sides of the nose.
Each face is unique. Study the shape of your face and only contour areas that you want to recede.
For example, if you have a smaller forehead or very defined cheeks, you might want to skip contouring those areas. But if you feel like you want to slim your nose or give your jawline more definition, you'll want to add contour there.
Each person will want to contour different areas of their face. This is a general guide of the most common areas on most people.
CHEEKS
Cheeks are my personal #1 favorite area to contour. I love how it slims my face.
I draw a thin line from the center of the ear, straight (not down) in the direction of my nose.
I like to stop mid-cheek, about 2.5 inches from my nose, before the apple of my cheek begins.
If you are having trouble figuring out where to stop your line, smile. Stop your line right before your cheek is rounded from smiling.
The reason I draw my line straight, instead of following the hollow of the cheek down, is to lift the look of my face. If you bring your contour down, you'll end up with a sunken, heavy look. Watch the video if this seems confusing at all!
I blend the lines upwards as I go. I blend each cream line immediately, as I find it's easier to blend that way, vs. drawing all of them on and then blending. I blend all my makeup products up, as it helps lift the look of my face.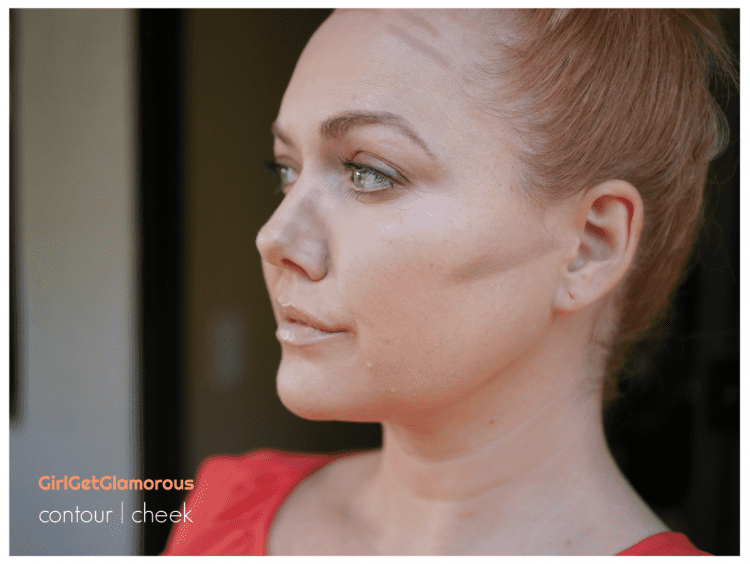 FOREHEAD
If you have a larger or more square forehead, you will love contouring here! I used to try and cover my forehead with side swept bangs, but didn't have to do that after I learned how to contour.
To round a square shape:
At the top outer edges of your forehead, add two rainbow shaped marks, then blend up towards and into your hairline, before blending down.
To resize a larger forehead:
Add another line across the top of the head, again, blending up and into the hairline, then blend down towards your nose. You can add another line below that and blend again for larger foreheads.
In art and drawing terms, to make a forehead proportional to the rest of the face, it should be about the same height as the area from below your nose to your jawline.
If you are new to contouring, don't hesitate to take out a tape measure and measure your forehead (from top to top of brows) and your bottom of face (from under nose to bottom of chin). For me, my forehead height is 3″ but my nose to jaw is 2.5″. I fill across the top half inch of my forehead to help it recede and even out the proportions of my face.
NOSE
On your nose, you'll apply contour down the sides and then out at the bottom, like drawing the letter "L" on your nose.
I never draw a line across or box shape at the bottom of my nose, that will actually make the ball of your nose appear larger.
I use a very light pressure when drawing the initial contour lines out on my nose, as I don't want too much slimming. My nose is on the smaller side and in proportion to the rest of my face.
If I contour too heavily, it throws the proportions off and my nose looks too small compared to the rest of my face. But a light application, spaced a bit wider out from the sides of my nose adds definition, which is especially nice in photos.
If you have a larger nose, you can go a bit wider and add a second layer to your application to slim the nose.
JAWLINE
The jawline is a great area to contour, especially as the shape of that area can change with age.
Lightly press your fingers along your jawline to feel for the bone and then place product there.
I like to blend down first, so there isn't a harsh line between my face and neck, and then upwards to lift to look of my face.
I also draw a few extra lines right under my jaw and slim the excess skin (double chin area) there. I blend down and into my neck, to make it seem like a true shadow.
Before + After | Contour Results
My Favorite Contour Products
Favorite Contour Products
1 | Fenty Match Stix shade Amber (Cream) | $25
My most used contour product! Love the color, texture, application stick, and longevity.
2 | Fiona Stiles Sheer Sculpting Palette shade Light/medium | $28
Super soft powders that look natural on! I love that this palette has three shades so if you faux tan, you can change contour shades as needed.
3 | Kevyn Aucoin The Sculpting Powder shade Light (Powder) | $44
This is a super silky powder that blends like a dream! Kevyn Aucoin quality is always so stunning and this contour powder is a real stand out product from their line!
4 | 3CE Blush Cushion in Soft Brown | $17
This is a K-beauty liquid compact. It comes with a sponge that you can fold in half to apply contour and blend. Liquid can be tricky at first, but is worth practicing, in my opinion, as it looks so natural once blended.
5 | Missha Cotton Contour | $7
Another great K-Beauty product. This is a very natural looking powder contour. The size is compact and perfect for travel. I wear shade Smoked Hazel.
6 | Surratt Beauty Contour Powder in Grisaille | $32
Surratt Beauty has become a go-to brand for me because of the high quality and natural finish of all their products. This contour powder is also exceptional! It completely melts into the skin, but leaves the most natural look, yet defined contour.
This was an instant favorite product for me! I love that it can be popped into a magnetic palette for a streamlined makeup collection.
Favorite Contour Brushes
1 | Wayne Goss "Airbrush" Contour Powder Brush (use with powder products) | $35
This is an insanely high quality brush, handmade in Japan, and generally unheard of for cruelty-free blue squirrel bristles at this price point. I own two of these brushes and use them daily both in my personal and professional kit.)
2 | Beautyblender pro | $20
Use damp to blend out cream and/or powder products.
3 | Benefit Hoola Brush (part of Bronzer set) | $17
The brush that comes with the Hoola bronzer is actually perfect for contouring, if you like clean and precise lines! I use the travel size brush when I want a super sharp contour.
SHOP THE POST

READ MORE
SOCIAL LINKS
Thank you for reading and being a part of the blog! – Molly