Knowing if my skin's undertone was cool, warm, or neutral used to b a f f l e me. I did all the color matching tricks: veins, jewelry, etc. and still could not figure out my skin's undertones or properly match my foundation for years.
I've stared at the veins in my wrist trying to pick up more distinct flashes of blue or green. I always felt "meh" after and deemed myself a "neutral."
(Side note, if neutral foundation looks a little grey or yellow on you, like it did for me, you aren't actually neutral.)
I've done the "what jewelry color do you look best in" question. My answer is rose gold, so I always felt confused. In hindsight, this should have been my first clue that I have peachy undertones.
Below is the method I use to color match myself and my makeup clients quickly and accurately!
We Will Cover:
1 | Cool or Warm
2 | Undertones vs Surface Tones
3 | Shades of Undertones
4 | Color Striping
5 | Cheek Swatches
How To Figure Out Your Undertone
________
1 | Cool or Warm
Look in the mirror or down at your skin for a second and without overthinking it, does your skin look like you are cold (think skiing in December) or warm (beach day in August)?
________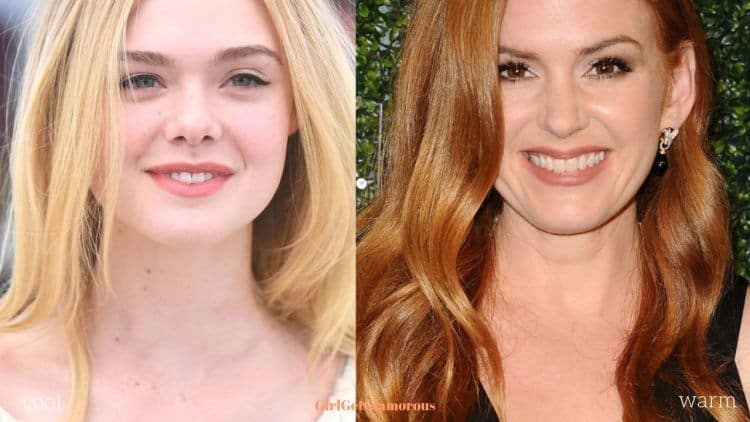 ________
2 | Undertones vs Surface Tones
This is where I went wrong for so many years. I would see the reddish tones in my skin and confuse them with having a pink (and therefore cool) undertone.
Surface tones are the colors on the surface of your skin: redness, under eye circles, etc.
As the name indicates, they are only on the surface of your skin and can change with lifestyle (drinking alcohol/sleep), sun exposure, faux tans, and skin care.
Undertones are the underlying colors in your skin, the true pigment of your skin tone. These are permanent and can't be changed.
With base products like foundation and concealer, you want to match your true undertones. The surface tones will be covered up as soon as you start applying makeup.
________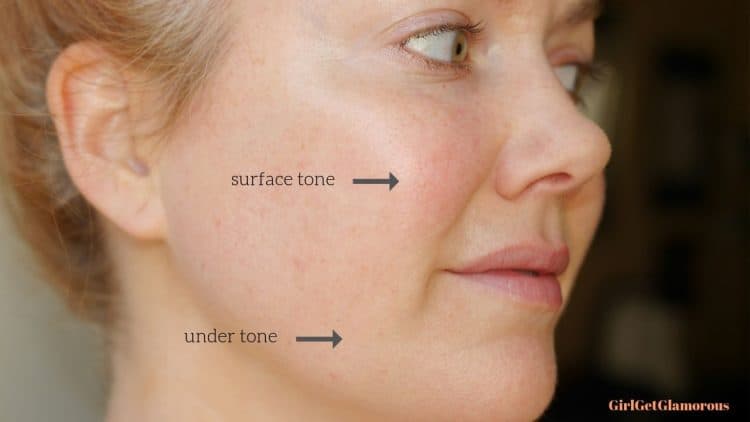 ________
3 | Shades of Undertones
Think of undertones like a watercolor paint. It's not going to be a big, bold color. You will see subtle hints of whatever shade you are.
Most people have a mix of tones present in their skin, so your undertone will be whichever tone is the most predominant.
There are several undertones in both the cool and warm categories:
silver (cool)
pink/rosy (cool)
yellow (warm)
peach (warm)
olive (warm)
red (warm)
Generally:
extremely fair skin tones tend to be cooler and will have silver or pink undertones
light skin can be cool or warm and will have neutral, pink (rosy), yellow, or peach tones
medium skin tones can be cool or warm and will have neutral, yellow, peach, or olive tones
tan skin tones tend to be warmer and will have yellow, olive, or red tones
deep skin tones tend to be warmer and will have olive or red tones
If you are a pretty balanced mix of pink and yellow undertones, you are neutral.
Related Post | Testing 30 Concealers on Mature Skin
________
________
4 | Color Striping
This is my go-to, always works, most accurate way to find the perfect foundation.
Color stripping is what I do with every single client to make sure we have a perfect color match before starting makeup.
It is exactly what it sounds like.
I'll take a few different shades and place a tiny amount on my (or client's) jawline. Once the foundation is on, it usually becomes super clear which one or two is closest. From there, I'll blend those shades out a bit more and see which one is becoming a second skin.
When you step away from the foundation, it should blend right into your neck seamlessly and your face should look clear and bright.
If you've picked the wrong undertone:
If you are cool toned and pick a warm foundation, it will look yellow or red on you. If you pick a neutral foundation, it will look slightly yellow.
If you are warm toned and pick a cool foundation, it will make your skin look pale and icy. If you pick a neutral foundation, it will look grey.
Now, I recognize that not everyone has a makeup artist's kit full of foundations ready to swatch on their jaw. If you have access to a beauty store – Sephora, Ulta, etc- then head over there armed with your guess of your best shade and take home samples or swatch in person.
Or go through old foundations you already own and color stripe them next to each other to trouble shoot and see why it looks "off."
When using testers, make sure you wipe the applicator/pump down with alcohol before pumping foundation out for sanitary reasons.
Related Post | My Favorite Foundations at Every Price
________
________
5 | Cheek Swatches
Once you have two foundations that you are choosing between, apply each shade to each cheek. Once you start to blend it out over your face, it should become really apparent which shade is the correct match.
The right foundation will look like a second skin. It will give your face a glow and you'll be able to wear a minimal amount of other products to make it look natural.
For me, the cheek swatches in when I really have been able to lock in the perfect shade. The video below does a full demo of this method to (hopefully) make it super clear!
Related Post | Step-by-Step: How To Buy The Right Shade of Foundation + Concealer Online
P I N T H I S P I C
________
If you don't have access to a beauty store or you are buying drugstore or online only makeup, well…online, then subscribe to the blog to get next week's post on how to buy your foundation online.
Shop F O U N D A T I O N S |

Shop the Post |
These are my affiliate links. I really appreciate when you use them! It doesn't cost you any more to use them (it would be like if the restaurant tipped your waiter for you) and I make a small commission. This helps support the blog so that I can create more posts like this one!
Similar Posts |
Social Links |
Facebook (I use this a lot for flash sale links) | Instagram @girlgetglamorous | Instagram hair extensions @girlgetglamorousHAIR | Pinterest (join over 1.5 MILLION other monthly viewers!) | Subscribe (free!) for the latest posts straight to your inbox
Thank you for reading and being a part of the blog!