Giorgio Armani Luminous Silk Foundation is one of my all-time favorite makeup products. This foundation has a reputation for being one of the best foundations ever made because of it's radiant, skin-like finish. I want to go into a full review of why I think this foundation is worth the splurge!
Years ago, I got color matched at Sephora and took a sample home to try before purchasing. I used that sample exactly one time before I and went back and bought the full size. With just one use, I truly understood all the hype: my skin was glowing and radiant, skin spots fully covered, but it looked like I wasn't wearing any makeup.
Product Info

Undertones
I am shade 4.25, light with peach undertones, and it matches my skin perfectly. It's the best shade match I've ever found. There are 30 shades available and a range of undertones.
It's hard to find a great peach undertone in a foundation and shade 4.25 is perfect! I do wish they'd come out with one level lower, a shade 3.25, for my super pale winter skin.
Armani Luminous Silk does a really incredible job with their undertones. The have accurate matches for olive, peach, yellow, pink, neutral, golden, and red undertones. This is one of the few foundations I've found that has a match for fair skin tones with olive undertones.
I'm really impressed with how well their shades match real skin undertones.
Related Post | How To Figure Our Your Skin's Undertone
WHAT I LOVE ABOUT ARMANI LUMINOUS SILK
1 | SKIN LIKE FINISH It blends so beautifully. No seams or foundation lines here. Just skin. I always get compliments when I wear this foundation on how nice "my skin" looks.
2 | EVENS SKIN It covers every imperfection, yet still looks light and fresh. This is the really baffling part to me. I can't figure it out. I can layer this on without it ever looking heavy. Or wear just one light layer and it really smooths the look of my skin.
3 | GLOW My skin has a glow with this foundation, without looking too dewy in the t-zone, which I have found very rare with dewier finish foundations! It's radiant in all the right areas, but still dries down and sets and feels like wearing nothing.
4 | LONGEVITY I have worn this foundation for 12+ hours and it looks exactly the same at the end of the day, with only some slight fading around the corners of my nose.
5 | PHOTO FRIENDLY The Armani Luminous Silk foundation is one of the most best looking foundations in photos (while still looking flawless in real life). I think this is a great wedding and bridal foundation, because it looks perfect in pictures, flash and no-flash.
Really and truly, the only downside I can see is that the foundation is pricey. But I absolutely feel like the quality of it's the finish justifies the price. I only have the highest praise for this foundation.
Related Post | How I Apply Foundation for 35+ Skin
SWATCHES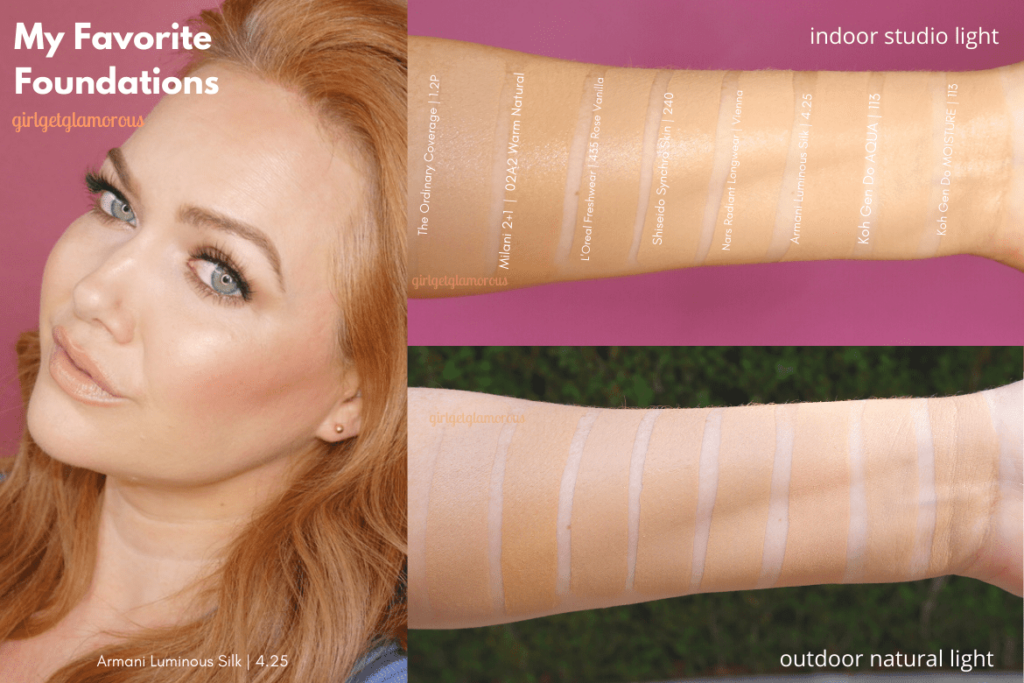 SHOP ONLINE
Sephora . Saks 5th Ave . Neiman Marcus . Nordstrom

This post contains my affiliate links and I really appreciate when you use them. It costs you nothing extra to shop using them, your prices stay the same. They helps support the blog and make future posts possible. Thank you!
READ MORE
SOCIAL LINKS
Thank you for reading and being a part of the blog!