As both a makeup artist and beauty blogger, I feel like I've tried hundreds of red shades at this point and have narrowed these down to my favorite shades and formulas!
For reference, I have a fair to light skin tone and warm peach undertones. I prefer red lipsticks with a brick or berry undertone.
For formulas, I prefer lipsticks that have a lightweight feel, with a lot of pigment in one swipe. I don't personally love the feeling or look of long wear liquid formulas, so I tend to reach for traditional lipstick formulas that have decent longevity and reapply as needed.
It's also important to me that my lips feel hydrated after wearing the lipstick all day. For red shades, I prefer opaque coverage (as opposed to sheer), with a semi-matte finish.
Here are my favorites that match my criteria above!
HIT PLAY OR CLICK HERE TO WATCH ON YOUTUBE
MY 6 FAVORITE RED LIPSTICKS
6 | Nars Soft Matte Tinted Lip Balm
shade: Whip Lash | $28
Lip Liner pairing | Hollywood Honey
I debated including this in my favorite reds, because it's such a muted brick. But I think this is the perfect soft red tone for someone who wants to add color to their complexion without it being a bold red. I love the color it brings out in my face, but it feels as easy to wear as a neutral lipstick.
The formula has a unique feeling of a lip balm, but a ton of pigment like a lipstick. It wears comfortably for hours.
shop Nars Soft Matte Balm | nars official . sephora

5 | Charlotte Tilbury Matte Revolution Lipstick
shade: M.I. Kiss (formerly Bond Girl) | $34
Lip Liner pairing | M.I. Kiss
Absolutely one of my favorite lipstick formulas of all time! For red lipsticks, I prefer a more matte finish. The CT matte formula is perfect because it's not drying and makes the lips look plump and hydrated, never tight. I don't know how she did it, but both the satin and matte Charlotte Tilbury lipstick formulas are absolutely perfect.
The M.I. Kiss shade is a very unique deep red with a berry undertone. Berry shades are flattering on a wide range of skin and undertones, so it makes sense that this is such a popular red shade.
This shade is the deepest out of all my favorite red shades, so I tend to wear it for evening and more dramatic looks.
shop Charlotte Tilbury Matte Revolution | charlotte tilbury . sephora . cultbeautyUK

4 | Sephora Collection Cream Lip Stain Liquid Lipstick
shade: 96 Red Velvet | $14
Lip Liner pairing | Colourpop Bichette
Long wear lip formulas usually leave my lips feeling tight and looking a little flat. The Sephora Collection lip stains are so comfortable to wear, have a natural finish, and work really well with other lip formulas. My friend Candace suggested using it as a base under other red lipsticks and she was right! It adds a ton of longevity to traditional formula lipsticks.
This shade, Red Velvet, is a gorgeous berry based red. Berry based reds are one of the easiest red shades for a ton of skin and undertones.
The formula is smooth, feels fairly lightweight on my lips, and truly lasts hours and hours. Sephora really nailed this lip formula and it's a great price!
I generally will wipe the excess product off the wand and use the wand to lightly outline my lips, instead of using a separate lip liner, but it does look nice with a liner as well.
shop SC Red Velvet Lip Stain | sephora

3 | Nars Matte Lip Pencil
shade: Dragon Girl | $24
Lip Liner pairing | Colourpop Bichette
Nars Dragon Girl is the lip I wear when I need a bright summer shade. It's a berry based red, which is flattering on a variety of skin tones. It's also very long wearing.
The only downside (in my opinion) with this pencil is that I really have to work it up to get full intensity. So sometimes I prefer to layer it over the Sephora lip stain. But this pencil lasts so, so long on it's own. It's just that I get to the level of coverage I want more quickly if I wear it over the stain.
I do love that you can sharpen this pencil and get a nice point, which makes it easier for me to get precise edges while filling in my lips, so that I don't need to use a separate lip liner.
If you are looking for a deeper red shade, Cruella, in this same formula is absolutely stunning.
shop Nars Matte Lip Pencil | nars cosmetics . sephora . ulta beauty

2 | MAC Matte Lipstick
shade: Chili | $19
Lip Liner pairing | Hollywood Honey
MAC's Chili lipstick has become my go-to shade when I need a red lip. The color is perfect. This is the lipstick shade I am wearing in the main photo.
The feeling is lightweight on my lips, but the color is rich and pigmented. The orange undertones work perfectly with my skin's peach undertones, so that the shade flatters.
I noticed sometimes with cooler blue-red lipsticks that they can end up looking a little too "bright" on my face. This warmer orange red is just right. It's vibrant without overwhelming my face or the rest of my makeup.
The finish is matte, but not too dried out looking or tight. It's just a truly great shade and formula. I feel like MAC lipsticks are a great price for the quality. Another thing I really appreciate about their lip products is that they have no scent or taste!
shop MAC Chili | mac cosmetics official . ulta beauty . nordstrom

1 | 3CE Matte Lip Color
shade: Red Seventies | $19
Lip Liner pairing | Hollywood Honey
This color really struck me when when I was shopping on YesStyle for Korean beauty products. I couldn't stop coming back to the page and am happy to say that the shade is stunning in person. It's one of the most flattering red shades I have tried.
It's an easy-to-wear, muted brick red. The formula is comfortable on my lips and wears well. I couldn't be happier with this lipstick! It's such a unique red lipstick shade.
YesStyle has free shipping to the US at $59. I recommend this hair stick for flyaways, this hair serum for smoothing frizz, these mini ear hugging hoops earrings (size M), this foundation cushion (I'm shade 23), this lightweight body sunblock, and this amazing face sunscreen. I have a full video coming-out soon on my favorite Korean beauty products, but this is a good start!
shop 3CE Red Seventies | YesStyle

SWATCHES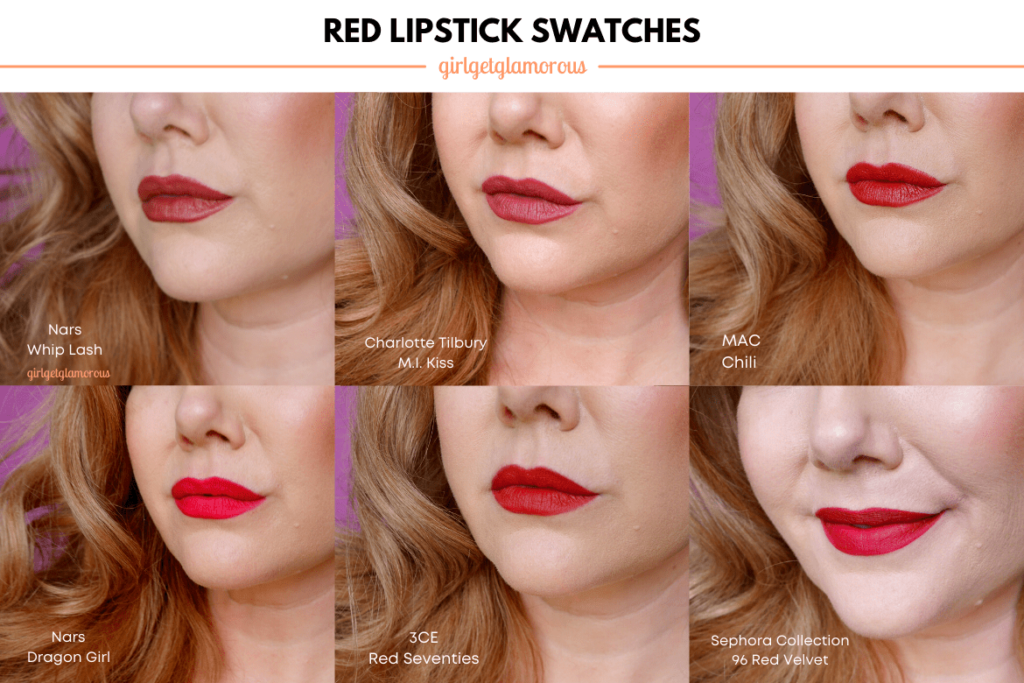 SHOP THE POST

PIN NOW | READ LATER
READ MORE
SOCIAL LINKS
Thank you for reading and being a part of the blog! – Molly