Doing your hair at home doesn't have to be scary! I know it can feel really intimidating at first, believe me, I've been there. Knowing the basics of hair color makes the process a lot easier.
I also wanted to share this post because I know there are a lot of international gals who read this blog and the products available in each country vary so much, so understanding the basics of hair color will make it much easier to find the right shades in the brands available to you.
Hair Structure
Hair is made up of a protein called keratin.
Hair has three layers. The cuticle on the outside of the hair, the cortex in the center (which is the thickest part and where most of the melanin, aka:pigment, is contained), and the innermost layer is the medulla.
When hair is damaged (generally after coloring or a lot of heat styling), this means that the outer layer of keratin on your hair has been compromised and your hair needs protein. When your hair needs protein, it will feel kind of like cotton candy, gummy and brittle.
If your hair feels brittle, but also feels heavy and lifeless, your hair has too much protein.
Hair Color
Your natural air color is determined by melanin. There are two types of melanin, eumelanin and pheomelanin.
If you have more eumelanin your hair will be darker.
If you have more pheomelanin, your hair will be lighter and more blonde.
If you have an extreme amount of pheomelanin (around 67%), your hair will be red. Only 1-2% of people in the world have naturally occurring red hair. Very cool!
As your melanin decreases, your hair will lose color and fade to grey and then white.
Types of Hair Dye
1 | Semi Permanent – these dyes deposit color over the hair shaft, leaving the cuticle in tact. They wash out a bit with each shampoo and last up to 20 washes.
2 | Demi Permanent – these dyes use a low level developer (usually a level 3-10, no ammonia) only slightly open the cuticle and deposit color over your natural melanin. Because the developer doesn't contain ammonia, it will not lift (lighten or bleach) your natural hair color. This dye does last longer than a semi-permanent, but will also eventually wash out.
3 | Permanent – you will use a developer with a level of either 10, 20, 30, or 40 (do not use a level 40 at home) depending on how much you need to lighten your hair prior to depositing color. The higher the developer level, the higher the level of peroxide it contains. The higher developer number also typically is more damaging to your hair. I use a level 20 developer for my roots.
4 | Henna – this type of hair color is made from a plant. Henna will not lighten hair, only deposit slightly darker results. Most hairstylists will not color a clients hair if it has henna in it, as it's difficult to predict the results. Henna takes a long time to fade out of the hair. I don't recommend henna color for this reason.
Developer Levels
Level 10 – can be used to add tint at same level. Can not lift or lighten. Great for refreshing color on the body/length of the hair.
Level 20 – can lighten hair 1-2 levels. Great for coloring grey hair.
Level 30 – can lift/lighten up to 3 levels.
Level 40 – can lift up to 8 levels. This level of developer should bot be used at home or by an inexperienced colorist without supervision as it can cause severe chemical burns.
Most drugstore box dyes contain a developer level of around 7%, which is why the color comes out less intense vs. other permanent dyes with higher developer levels.
Developer is crucial because it both opens the cuticle so that the dye can enter and it also bleaches your melanin so that the dye can bond with your cortex. Developer is mixed with your hair dye prior to application.
Natural Hair Color Levels
All hair falls on a color scale from 1-10. 1 being the darkest: pure black and 10 being the lightest: platinum blonde.
When coloring your hair, the results will look the most natural if you stay within two levels of your natural hair color.
For example, I'm a natural level 7. I had warm brown hair, before I started going grey at 19-years-old. I could go darker to a level 5 or lighter down to a level 9.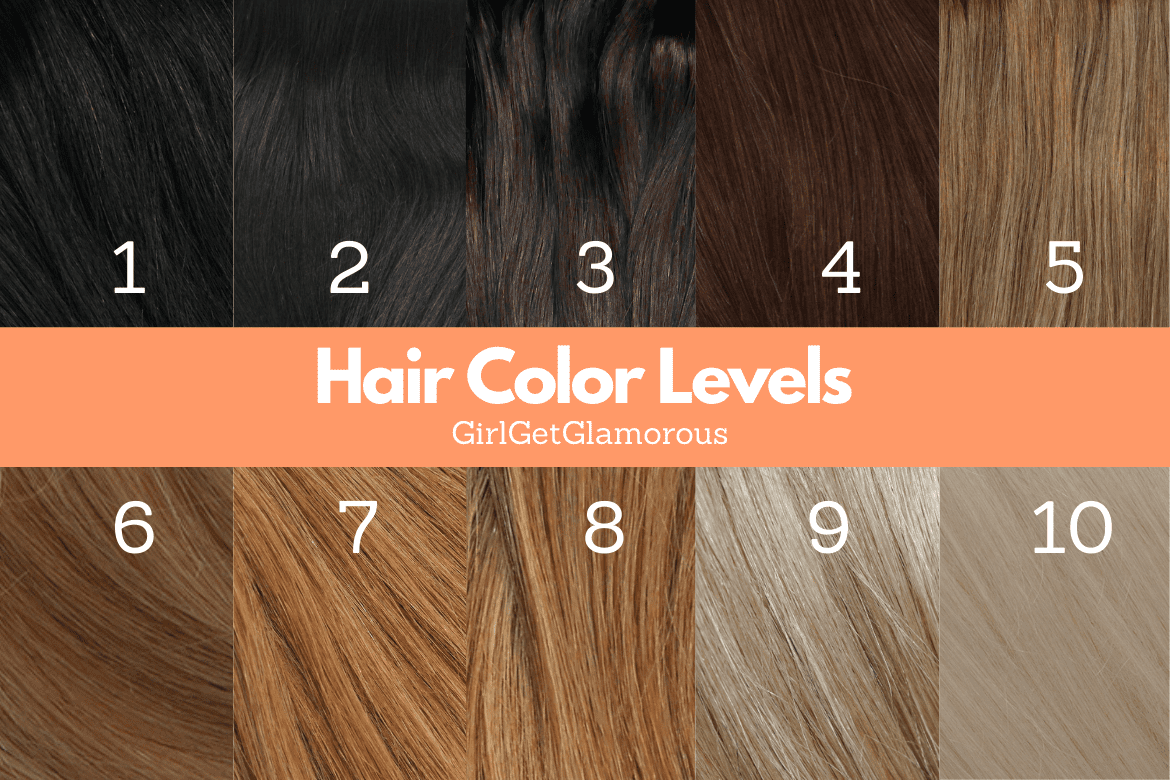 Hair Dye Base Colors
When mixing two or more shades together to get your perfect color, the base colors are going to be really important.
Even if you are doing only one color (called 'Single Process" color), it's important to make sure that the base of your hair dye goes well with the undertones of your natural hair color.
If you have naturally very warm undertones, the sun catches it and it's golden, then cool toned (icy) hair probably won't be as flattering on you as a dye with a warmer base.
Because my hair was naturally a warm level 7 brown, I was able to transition to Strawberry Blonde (level 8 with golden and red base colors) easily.
I've tried every color under the sun, including cool toned jet black and icy platinum blonde and man, did I have to work at my makeup to make myself look ok. I was totally washed out with these shades. Whereas with warmer browns and Strawberry Blonde, it flatters my skin tone and I can wear less makeup.
Here is a good chart that shows the base color of many shades. The base color (undertone) of hair color can be neutral, blue, violet, gold, green, ash gold, brown-violet, brown-red, red, red-violet.
Hair Dye Color Levels
Much like your natural hair color, hair dye comes in levels 1-10. Level 1 being the darkest, pure black, and level 10 being the lightest, platinum blonde.
You will want to find hair color that falls within two levels of your natural hair for the most natural looking results.
Hair color is all assigned a level and a base color.
For example, from my Strawberry Blonde color formula, I use a combination of shades 7 G + 8 RG + 8G
Then, I use these same dyes, but with Level 10 developer for the body of my hair.
The breakdown of the base of each shade is:
7G Sunlight Blonde Brown = level: 7 base: Gold
8RG Titian Red Blonde = level 8 base: Red-Gold
8G Light Golden Blonde = level 8 base: Gold
I chose this formula because:
I am a natural level 7, so I knew the level 8 and 7 shades would work with my skin tone.
My hair was naturally warm, so I knew the gold base would be flattering.
I wanted a Strawberry Blonde tone, so I chose the 8RG with red-gold tones to add that redness.
Because I'm now 95% grey, I added a few drops of 7G to add depth to the formula and avoid peach tones.
To choose your own formula, look at:
what level you want to be from 1-10
if it will work with your natural hair level and undertones
pick a shade that has some red tones if you want a strawberry blonde shade
International Readers | You can choose your formula with any brand of hair color in the world by choosing the correct level and base colors.
What You Need To Buy for At-Home Color
This video goes step-by-step how I mix and apply color. Everything used is listed below! It costs me about $20 each time I color my hair at home.
Shop the Post

Above are my affiliate links and I SO appreciate when you use them. It costs you nothing extra to use them – your prices stay the same! It helps support the blog and make future posts possible. Thank you!
Developing Time
The first time you color, you will apply color from roots to ends for 30 minutes if you have no grey hair, or 40 minutes if you do have grey hair. You can use the same developer level for roots and length of hair.
For touch ups with no grey hair, you can leave color on roots for 20 minutes then pull color through ends for 10 additional minutes, total processing time: 30 minutes.
For touch ups with grey hair, you'll apply to the roots for 30 minutes and pull though ends for an additional 10 minutes, total processing time: 40 minutes.
For touch ups, it's better to use a level 10 developer on the length of your hair, and a 20-40 level only on your roots. The length of your hair doesn't need to be lifted, just the tint refreshed, so the level 10 will work for that.
After Coloring
Once my color is done processing, I get in the shower and rinse the color out, then shampoo with a sulfate free shampoo twice. Then I apply this deep conditioner for 5-10 minutes.
Every two weeks, I use this deep conditioning set from Rita Hazan to keep my hair silky and shiny.
Shop Color Safe Shampoo + Deep Conditioner

Root Touch Up
I recolor my hair every four to six weeks, depending on how motivated I feel. From week 3 of roots, until I color my hair again, I will use a root touch up spray or powder if I am going out or filming something.
Related Post | How to Use Root Touch Up Spray
I hope this post was helpful! This is everything I've ever learned about hair dye and coloring at home. I really hope it helps you have more knowledge and feel more confident about coloring your hair at home!
Shop Hair Color Essentials |

READ MORE
SOCIAL LINKS
Thank you for reading and being a part of the blog!