Missha is a Korean beauty brand famous for their BB Cream and sunblocks, amongst other great skincare products. I decided to test out their "M Magic" cushion foundation in shade 21, 23, + 25 to swatch and review.
I am excited to see what additional shades Missha comes out with over the next year, as they have decided to expand their shade range on their BB cream to match more of their global fanbase.
Missha M Magic Cushion Product Info
size .52 oz
retail $19
4 shades
light-to-medium coverage
luminous finish
SPF 50
Hit Play
Shop The Post

Packaging
This foundation comes in a traditional cushion compact, with the foundation poured into the lower sponge portion and an application sponge in the top portion. There is a mirror in the inside lid of the compact.
Cushion foundations are very travel friendly and I do find that they tend to apply more sheer with the included applicator sponge.
Review
Missha's M Magic foundation claims to have light coverage, cover blemishes, hydrate skin, and provide sun protection. I found it to cover very well. The finish is very luminous and does get more shiny as the day goes on.
I feel like this foundation works best for me worn with an oil control primer and setting spray. This foundation works well for me worn for a few hours (for running errands or a dinner out), but does tend to get too dewy for me when worn all day long.
I absolutely love the coverage, it is light and builds nicely to medium coverage. The only downside for me is that shades 23 and 25, which were my best skin tone match, have too much of a yellow under tone (I have a peach skin under tone). You can see this in the 3rd photo below, compared to my Armani shade 4.25 and in the 4th photo, where I am wearing shade 25.
Overall, this is a nice light weight feeling foundation and I think it would be a great pick if your undertones lean more yellow or gold.
Swatches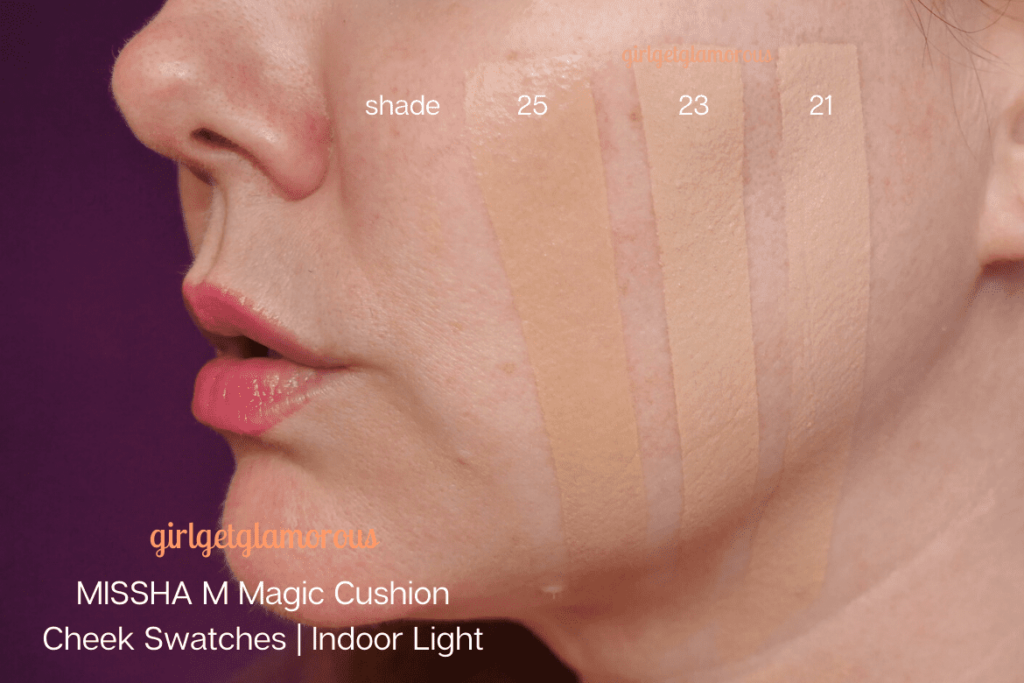 Pin Now | Read Later
Shop The Post

READ MORE
SOCIAL LINKS
Thank you for reading and being a part of the blog! – Molly