ColourPop has done it again.  Their cream blushes are insane.  I know I sound like a crazy person for this brand, but all their products are incredible quality and extremely affordable.
Their products cost less than most drugstore makeup brands but perform as well as luxury brands.
Packaging
Their new blushes have the same creamy cushion texture as the eyeshadows, but in a larger pan.  They are double the size of the shadows, actually.  The blushes are .15 oz and retail for $8 each.
They come in a lightweight plastic white container, with a twist-off top.  The Colourpop logo is a hologram on the lid.  In Borat's voice "very, very nice.  I like."  But seriously, I do like that hologram logo.  It's rad.
These blushes are available exclusively on the Colourpop website.
Wear
The blushes work as a stain and leave your cheeks flushed for hours.  They are very long wearing, and I set everything with this setting spray, so they last even longer.  They come off easily with this oil cleanser.
Because they do stain, make sure to apply and blend each cheek on it's own.  You can't set a little bit of product on each cheek and blend one side, then the other.
I use the shade Aphrodisiac as a contouring shade, so I really have to apply and blend each section of my face before moving on, so I don't get stripes that won't blend.  How did I discover this?  Yes, by getting lines that wouldn't blend.  Luckily, I was just playing with the blushes before I washed my face (highly recommend always testing your new makeup before a shower) so it didn't matter.
The finishes are satin or matte.  I find that the satin finishes look the most like real skin in photographs and the matte finishes have a beautiful watercolor like effect on the skin.  Both are really lovely.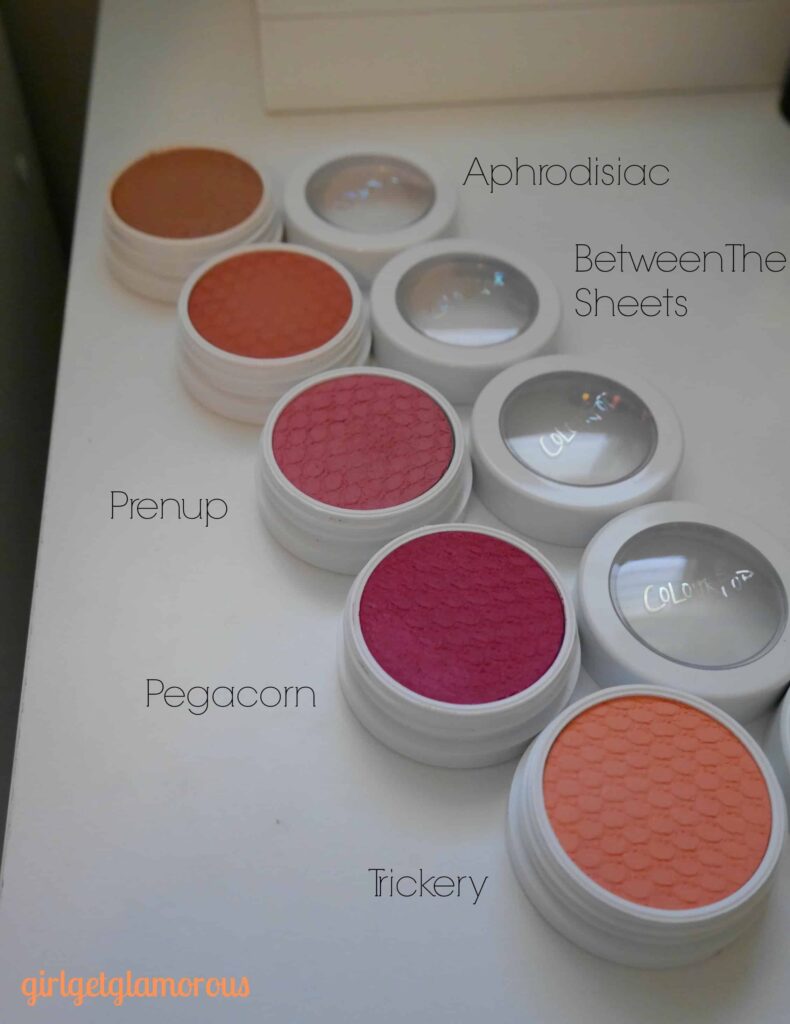 Shades
I purchased five shades.  I bought, from lightest to darkest: Trickery (satin), Aphrodisiac (matte), Prenup (satin), Between The Sheets (matte), and Pegacorn (satin).
Trickery |  very light peach, slight shimmer (don't let that scare you, it's very subtle and brings out the structure of your cheekbone).  Great shade for when you have done a heavier eye or bold lip and want just a slight flush of color on your cheeks.
Aphrodisiac |  the hardest name to spell correctly, taupe, perfect for a natural looking cheek shade or contouring for fair/light skin.
Prenup | soft blush pink with a slight shimmer, for me this is the natural shade I flush when I'm blushing.
Between The Sheets | dusty, matte beige pink.
Pegacorn | medium raspberry with a gorgeous micro-shimmer.
The colors swatch true to the color they are in the pan.  Some blushes tend to turn slightly more pink on the skin than the look in the pan (not great for redheads).  But these all stay true.  I found all five shades worked well with my strawberry blonde hair and Prenup, which I thought might be too pink, has become one of my most used out of the bunch.
Dupe
These blushes are a dupe for one of my all-time favorite products, the Shu Uemura Silk Cushion Blushers, $25.
The colors are a bit different when swatched, even thought they look identical in the pan, but they both have a very silky, cushiony feel and blend very well.  They both look so natural on the skin.
The Shu Uemura was and remains one of my top blush picks for strawberry blondes!  Trickery is a soft peach, about a shade lighter than the Orange Quartz.
Review
Which brings me to my next point.  I love that they do exactly what blush is supposed to do.  They give you a natural looking flush and define your cheeks, but blend in completely.  They look like real skin, which is perfect for photos and real life.  I do love powder blush, it sets cream blush perfectly if you need super long wear, but too much can look powdery and the makeup becomes visible.  Which is why I'm so obsessed with cream blushes.  It's almost impossible to over do your makeup with creams and these ColourPop blushes build beautifully in light layers until you get the desired color.
They are well pigmented, but not opaque like the Lippie Stix.  Which is great for blush, because I do not want super heavy, bright clown cheeks.  These apply light, but with smooth and even pigment in one swipe and adding another layer or two builds the intensity up without any chalkiness.  They can be worn on bare skin or over foundation.
I use this small stippling brush to apply this blush.  It gives the blushes a very airbrushed finish and prevents my fingers from getting stained.  I can't recommend highly enough to use a stippling brush with these blushes.
Overall
I mean, I'm obsessed.  I will definitely be picking up more shades.  ColourPop products are not just amazing for the price, they are just amazing.  They compete and beat so many high end formulas that I've tried.
I hope this review and the swatches help!  Please leave me a comment if there is anything else you'd like to see.
You can follow me on Instagram @girlgetglamorous.
Go Get Glam!