Eye shadow palettes have become The Rage in the past few years.  I am a big fan of an eyeshadow palette.  Generally, they are an amazing deal and way to get a full range of colors for the cost of two or three single shadows.  The colors are coordinated for you, giving you gorgeous shades that work well together.
I was excited to try the Maybelline "The Nudes" palette, but also cautious (didn't want to get my little makeup heart broken).
I bought this palette when Rite Aid was having a 40% sale and I had a $3 off coupon.  I paid $3 total for this palette!
Product Info
This palette includes 12 eye shadow shades, a mix of shimmer, satin, and matte shades.  The suggested retail price is $10, but like I mentioned, look for sales and coupons, because they are frequent and easy to find.  I believe it's meant to  be a dupe for the Urban Decay Naked 2 palette for people looking for a less expensive version.
How I Use
I do use this shadow with an eye primer.  My favorite is the Lorac Behind The Scenes eyeshadow primer.  This helped the matte and lighter shimmer shades somewhat, but I still found the difficult to blend.
I always set my makeup with Urban Decay setting spray.  Prepping and setting eyeshadow helps my shadow last all day and night until I take it off, whether I use drugstore or high end shadow.
Texture/Longevity
These shades aren't given names, so I'm putting numbers on them Top Row and Bottom Row Left to Right 1-12.
Great texture, silky, pigment, long lasting: #1, #4, #7, #8, #9, #10
Creamy texture, but not much color payoff or longevity: #3
Chalky, dry texture, no pigment: #2, #5, #6, #11, #12.  The dark grey #6 and black #12 are especially lacking pigment.
I found that they all worked better when I swirled them around a little bit with my fingers before I used them for the second time.  My first use on all of them was "meh" but then I swirled them around a bit before I tapped my brush into them and then the metallic shades started to really pop and the texture got so creamy.
I think the matte shades are holding this palette back from truly competing with a higher end palette like the Urban Decay Naked palettes.
Packaging
I like the packaging, I think the black plastic container is sleek and I like how you can see all the shades through the top.  I would change the back, it has a listing of shade pairings, which I didn't find that helpful.
I'd rather have the shades all named and labeled on the back and inside of the palette.  It does make it tricky when I want to list the shade names for a makeup tutorial.
Also, there is a space for two little shadow brushes that came with the palette.  Those don't work for me, so I'd rather have that space used to spread the shadows out and leave room to label each shade.
I also offer my extraordinary shade naming ability to Maybelline, should they need a shade namer.  Truly, I have a gift, in my humble opinion. LOL, Lolz, ha ha.  (seriously though, Maybelline, call me.)
But yes, shade names are a very much needed revision for this palette.
Here's why I think this palette is still a decent buy:
Even though I only liked half the shades, the ones that I did like have a great texture that rivals much higher end shadows.  They were incredibly pigmented and blended easily.  They also lasted a very long time without any creasing or fading.  So for me to get six shades that work for $10 is still a decent buy.  I wish they'd improve the other shades, because they are noticeably harder to work with and blend, with very little color payoff.  But shades #4 and #10 are gorgeous and shades I use regularly.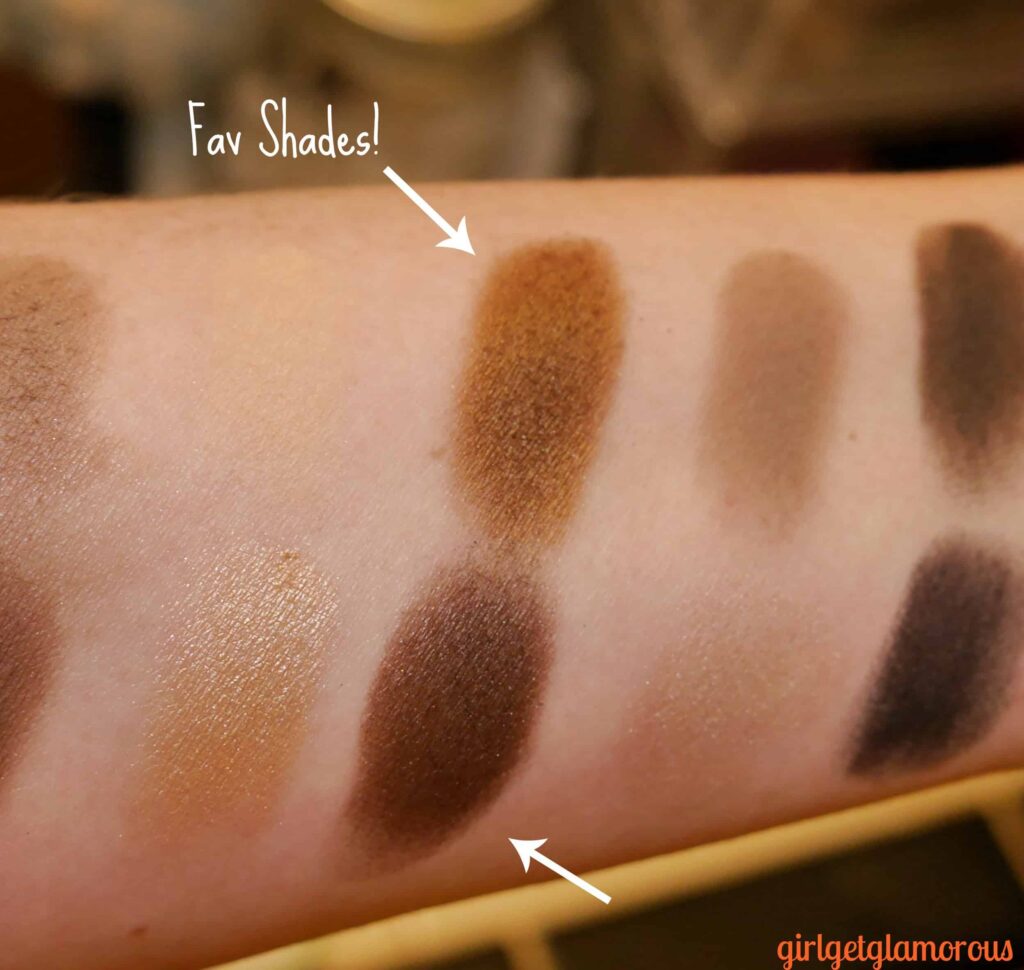 I'd say if you are looking to get some great bronze and brown shimmer shades, which are shades that flatter most eye colors, big thumbs up, then grab this palette.  If you were hoping for better matte shades in a drugstore palette, I'd recommend the Physician's Formula matte quads.
I hope this helps!  Please let me know if you've tried this palette or have any other drugstore favorites. Also, have you seen any new drugstore products that you're curious about?
Thank you for reading!  As always, please feel free to share any photos on Pinterest or the whole review on your Facebook.  You can follow me on Instagram @girlgetglamorous.
Go Get Glam!