Oh la, la, Limited Edition!  Two of my favorite, most heart-pounding-enducing words in the English language!  I love limited edition sets and I love Maybelline, so here we go.
Maybelline came out with their Gilded in Gold collection that included three matte Color Tattoo eye shadows, three blushes, two lipsticks, and two nail polishes.  The matte Color Tattoo eyeshadow pots looked beautiful in the display and I'm kicking myself for not buying them.  I had just bought an eye palette so I have almost all the same shades but now I'm looking at swatches of the Matte Brown and getting sad because it looks beautiful.  *Sigh.*
I did pick up the blush in Plum Shimmer and the lipsticks in Pink Grandeur and Refined Red so I'll swatch and review those beauties.
Starting with the blush:
Plum Shimmer is pressed to have a pretty tweed pattern on the top, with a swirl of shimmer.  The shimmer looks like when you pour cream onto your coffee.  Lovely touch.  The plum shade itself is beautiful on.  It gives your skin a flush, like you just came in from a day of sledding or ice skating.  It's pretty, especially against my now very Irish looking California Winter skin.  (My Cali Winter skin is very different from my Upstate NY Winter skin which was the color of an opaque jelly fish you'd see at an aquarium.  I used to be see through from October to April.  So now I have a *bit* more color, but I'm still pretty pale.)
I have been using this blush almost every day, the slightly deeper shade makes for a beautiful contour.  Also, the texture is silky, with just enough pigment.  It looks pretty and soft with the lipsticks, which are both very bold colors.
I've reviewed Colorsensational lipsticks before HERE and HERE, we might call them a slight obsession of mine.  Texture is perfect, colors are insanely pigmented, taste/scent is pleasant, and the color lasts.  I am a Woman Obsessed.
I'll focus more on the colors since I have reviewed the colorsensational lipsticks in depth before.
PINK GRANDEUR:
This might be my favorite lipstick ever.  Do you know how huge that is for me to say?  I had been keeping my eye out for a perfect bold raspberry shade forever so when I saw this stunner I just knew.  (I'm hoping this will happen with a man one day, and then I will marry him.  For now, I will take Lipstick.)
The color is so perfect.  I wore it three times over one weekend.  Twice at full intensity and once blotted.  All three times I got so many compliments.  Compliments are my version of oxygen.  The shade is pretty and raspberry, but natural looking.  I love it so much.
REFINED RED:
I also love this red.  It's a beautiful bright, true red, and it makes your teeth look whiter.  This shade is a definite WIN.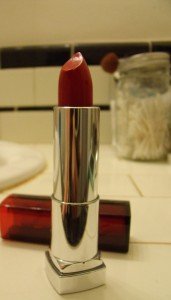 Thank you for reading!  Let me know if you have any other favorites from this Gilded in Gold collection below!!
Stay Glam!