A new product launch is a very exciting thing for me.  It's right up there in My Favorites Things along with my birthday and salad buffets.  Covergirl has come out with a new line called "Ready, Set, Gorgeous" with Katy Perry as the spokesmodel.
It includes a foundation, powder, and concealer that promises to be "#instaGLAM," full coverage, camera-friendly makeup.  I think Covergirl picked a perfect spokesmodel, as Perry is known for her full coverage makeup and is really popular "with the kids these days."
Shop | Covergirl Foundation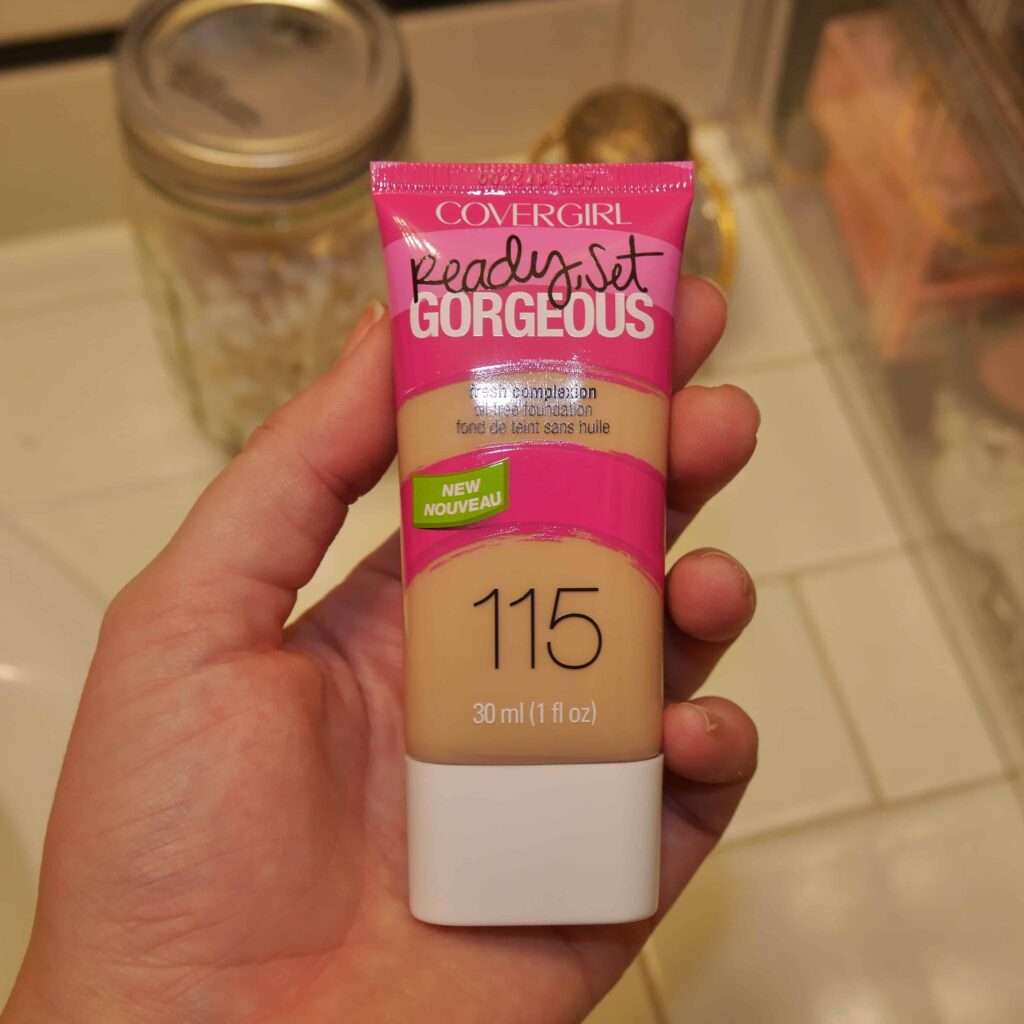 I love full coverage foundation and it's rare to find in drugstore lines, so I was excited to try the foundation.  I purchased shade 115, buff beige.  I paid $7.99 for the foundation.
Initial Thoughts:  The shades are great!  I swatched a few more with the testers in store and they all blended well.  Buff Beige was the best fit for me and blended very well on.  No foundation lines.  The color stayed true all day and did not oxygenate (turn orangey) on my skin.  The shades were all very true to skin tone.  No weird tones.
Coverage:  With one layer, and two in some spots with extra redness/scars, I did reach full coverage.  The coverage stayed all day until I washed my face.  I could feel the makeup on my face, but it didn't feel too heavy or mask-like.  The texture was smooth and blended easily.
The Downsides:  I did feel like my skin got a little clogged.  I didn't have any breakouts, but my skin just didn't feel as fresh as it normally does, even after a thorough cleansing.  Also, after a few days, my face started having a slight burning sensation after application that lasted a minute or two, so I definitely don't think this foundation will work for sensitive skin like mine.
The Upsides:  When I wore this, people that I see everyday told me my makeup looked beautiful.  Rule #1 for how to get into Girl Get Glamorous's heart??  COMPLIMENTS.  Flattery will get you everywhere with me.  Shallow is my middle name.
Overall Grade:  B+.  I wish this didn't irritate my skin and pores, because the coverage and finish are really great!  It would be great if Covergirl would tweak the formula slightly, to make it a little more skin friendly.  The price is also nice, with the foundation, powder, and concealer all priced at under $9 each.
Thank you for reading!  Please feel free to share this post on your Facebook or Twitter and follow this lil' blog on Instagram for daily pics @girlgetglamorous.
Go Get Glam!