This post has all my styling secrets, tips, and tricks for getting big hair with tons of volume! I love big hair and over the years have tweaked how I style my hair to make it as voluminous as possible.
Part 1 went over my hair cut tips and product application placement, which actually makes a big difference in volume, and my favorite styling products for big hair.
Let's get into my top 10 styling tips for big hair!
HIT PLAY
1 | Over Direction
This is one of my favorite styling tips. Over direction means you style your hair in the opposite direction you want it to lay.
On the left side of your head, you'd blow dry (or curl or straighten) your hair at the roots going up and over to the right side, instead of straight down. Then when it lays normally, it will have extra lift at the roots.
You can also spray a little bit of hairspray or texture spray at the over directed area near the scalp to set that volume.
This tip might require a visual to really make sense, so I demonstrate it in the video below. When you are curling your hair, you only need to pull up and over direct the 2-3 inches at the root, then you can curl the rest of your hair normally.
I recommend practicing over-directing your hair with the hot tool turned off first, just to get the feel of how to hold and move your hot tool.
Over-direction can feel a little tricky at first, but once you get the hang of it, you'll love the volume boost. It's my #1 tip for getting volume at the roots without any teasing.
2 | Teasing/Backcombing
Teasing is generally the first thing that people think of as a go-to trick for creating a lot of volume. When it's done properly, it doesn't create a lot of damage.
Make sure to back comb your hair first, then apply any hairspray or texture sprays or powders. This is my number one tip for preventing damage.
Also, make sure you are lifting small sections and combing vertically, directly towards your scalp, not at an angle. This gets the teasing closest to your scalp and creates nice volume there.
Once your backcombing is set how you like it, then apply a bit of hairspray and comb over the smooth "buffer" hair over the top to hide the teases hair.
3 | Revive
If you feel your teasing start to fall throughout the day or the event, instead of teasing again, which can cause damage once hairspray is in your hair, grab your teasing comb.
Using the thin stick edge, push that into the teasing and pull it forward towards the crown/front of your head. This will give you a bit more lift without you having to tease hair that already has been teased and has product on it.
4 | Hair Extensions
Clip-in extensions are the fastest way to get instant volume and/or longer hair. Most celebrities and IG gals are wearing them. When blended correctly, they'll just look like your own hair and like you have a ton of your own hair.
I usually wear a full set of 140 grams up to 180 grams (depending on length of extensions) of double drawn hair. Double drawn extensions are thick from roots to ends. Sometimes for a more subtle volume boost, I'll just add in two wefts of extensions.
It takes me less than five minutes to put my extensions in and blend them with my natural hair. It's one of my fastest tricks for mega volume.
Shop | girlgetglamorousHAIR double drawn extensions
5 | Flip + Scrunch
If you need an instant boost (I love this trick pre-photo), flip your head and hair over, shaking it and scrunching your fingers at the roots.
Flip your hair back over and into place.
For bonus volume, you can spray or have someone else spray a little hairspray or texture spray on your hair when it's upside down. Just make sure to flip back over quickly so you can arrange and smooth your hair before it sets.
6 | Spray Products in Horizontal Layers
Instead of spraying or placing hair products on the top layers only, lift hair in vertical sections and spray in between the layers.
This will give hair lift, let the products work more effectively, and prevent the top layer from getting heavy and weighing down your hair.
7 | Change your part
This is very similar over direction. By switching your hair part to the opposite side from how it was styled, you will get instant volume.
It's so easy and gives hair such an instant lift.
8 | Fan/Wind
This is a photo shoot tip.
If you are taking pictures, have your photographer set up a fan so that the air hits you right around your jaw. This will lift your hair off your face and create the look of mega volume in your hair.
If you are shooting outside, you could get lucky with the wind. You could also ask the hair stylist to bring a leaf blower and have them aim the air flow at your jaw, same as above. This is how they get air blown hair on outdoor shoots for magazine and commercials.
The first time I saw this trick , while I was working on a shoot for Glamour magazine, I was awe struck. It's pretty genius for a great photo.
9 | Setting and/or Velcro Rollers
This trick is slightly more time intensive, but can really set hair up to maintain volume over a few days. Even just rolling the front and top pieces of your hair as it cools from blow drying or curls can help lock in volume at the roots.
Once you've finished blow drying or curling your hair, either roll it back in a large loop shape (it should look like a roller is in it even though there isn't) and clip it with a setting pin at the base or grab a velcro roller and wrap the hair around the roller.
Leave in until you hair is cool. I'll generally use this time to do my makeup and then pull the rollers out at the end.
shop rollers | XL Velcro Rollers
10 | Dry Shampoo
I know this "tip" seems like it should have gone on Post 1, but hear me out. I generally hold out as long as I can before using dry shampoo.
I prefer to use it on day 2 or 3 of "dirty" hair. Even though it it a product that cleanses dirt and oil, it's still another product to add. But used at the right time, it can cleanse some oils at the scalp and give a volume boost to the roots.
Just wait until your roots start to feel a bit limp and then spray or sprinkle a bit of this amazing texture and volume powder/dryshampoo in horizontal layers from the top of your head to your ears.
Then, and this part is so key, after letting the dry shampoo sit for about five minutes, massage it into your scalp and then blow dry at your roots on medium/low heat for 20-30 seconds. The heat will help the dry shampoo absorb extra oil and give you tons of extra volume.
Related Post | Every Dry Shampoo I've Ever Tried
I hope these these tips are helpful! I will mix and match and use tips as needed to get the hairstyle I want for that day. Feel free to do the same and ask any questions below. Someone else might be wondering the same thing!
SHOP THE POST

PIN NOW | READ LATER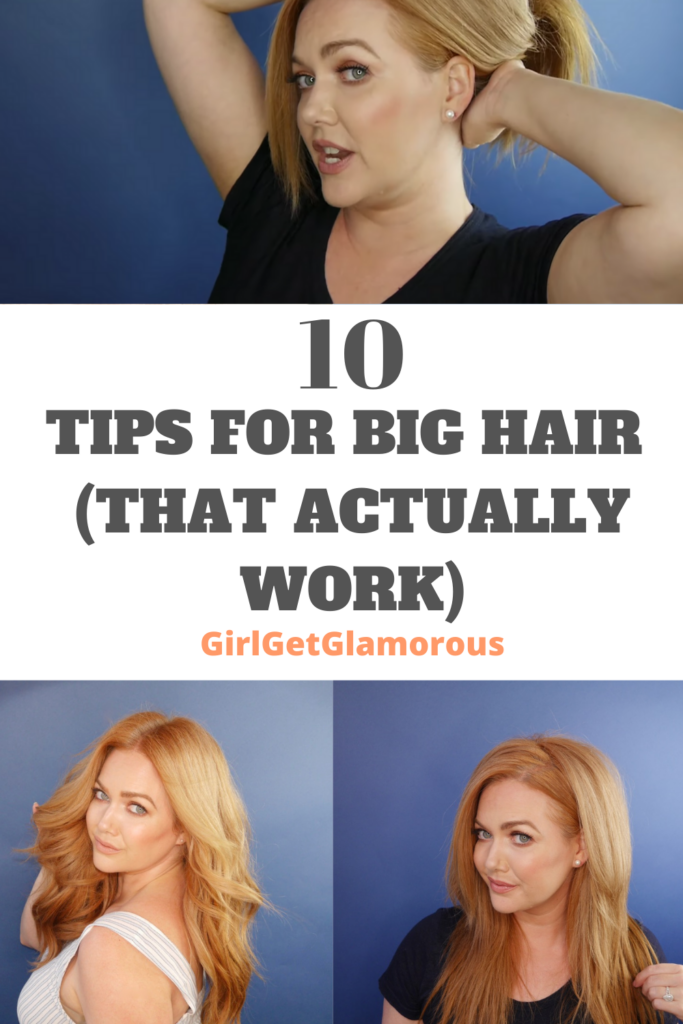 READ MORE
SOCIAL LINKS
Thank you for reading and being a part of the blog!