Never before in my life have I used a hair product only one time and thought "Holy Grail."  I actually made myself use Living Proof's new styling treatment, Perfect Hair Day or "PHD" for short, two more times before I wrote this post.  I was that excited about it.
MY NEW LOVE:
OUR STORY:
I have used & loved Living Proof products before.  The styling product that works best for me was the "Full" styling cream.  Love it.  But I did always wish it smoothed out my hair a bit more.
HOW WE MET:
I came home one day last week and low-and-behold Ulta had sent me their monthly flyer in the mail.  They had a half-page ad on "PHD" listing that it was their new 5-in-1 styler.   You can find PHD at Ulta, Sephora, LivingProof.com, and I've seen it at local beauty supply stores.  This product is going to be big…  Like, Moroccan Oil, big.  I went to Ulta in West Hollywood and they were sold out so I called the Burbank Ulta (Yes, I'm that crazy) and they had one left.  I had them put it on hold for me and drove up that afternoon (can you say too much freeeeee time?).  I had just washed my hair that morning though, and only wash my hair a few times a week.  See my "How to Grow Out Your Hair" post for details on that.  So I had to wait a few days to try PHD.  A few long, painful days where I thought about breaking my own rules and just washing my hair two days in a row like some sort of beauty outlaw!
FIRST IMPRESSION:
After washing my hair and towel drying it, I put a pea size drop of Perfect Hair Day and only PHD on my hair.  They recommend to blow your hair dry for best results.  I normally only blow dry the roots, air dry my hair, then heat style from there, but since Living Proof is the Pro, I did what I was told.  I blew it about 70% dry then let it air dry the rest of the way.
Holy Smokes.  My hair was so smooth and still had so much body.  I couldn't stop touching my hair.  It was so silky.  My hair is colored and heat styled and normally pretty dry so this was a Big Deal.  I ran my hands threw it so much, I ended up having to wash it the next day…I'M AN OUTLAW!
OUR SECOND DATE:
I did the same as above and got the same silky hair with volume.  Incredible.
THIRD DATE:
Put in the Perfect Hair Day, then I blew my hair out, then flat ironed it to make it stick straight.  I sprayed heat protectant on the ends before flat ironing, then re-read the PHD info and it said it offers both UV and heat protection.  Whoops.  I don't mind doubling up on heat protection though, especially when I'm blow drying all the way, then heat styling.  So damaging!  I usually blow dry my roots then let the rest air dry if I know I'm going to heat style (flat iron, curling iron, etc) my hair.  My hair way so silky, and so big from blow drying it all the way.  It felt super soft and moisturized.  Usually after I flat iron it has the texture of straw.  My hair after using PHD felt like the hair equivalent of the amazing sheets they put on top of the pillow top beds at fancy hotels.  This stuff is LUXE, baby.
THE ONLY DOWNSIDE:
This packaging is slightly harder to get the product out than the other Living Proof products I have tried.  You have to shake all the product to the top to get it out or you'll be squeezing the bottle forever.
THE VERDICT:
True love.  This product does what it says.  It is incredible.  It is one of the best hair products I have ever used.  And for $26, it is a steal because you truly won't need to buy separate volumizing, smoothing, and repairing creams.  Also, you are putting way less product in your hair by just using one cream.  As Martha Stewart would say, "It's a good thing."
Thank you for reading!  Follow @girlgetglamorous on Instagram for daily beauty pics!
**UPDATE**  Perfect Hair Day has continued to blow my mind.  I wanted to share more photos, because it is the first time ever that I have been able to blow dry my hair and get results I'm happy with.
The first two photos are what my hair has looked like before when I'd blow dry, not using Perfect Hair Day.
And AFTER:
I used Aveeno Volumizing foam mousse at the roots, a small dab of Living Proof Prime (if I want my style to last 3 to 4 days without having to touch it up), Perfect Hair Day from roots to ends, and finished with a small drop of argan oil for shine and polish.  I blew my hair dry with a round brush and twirled the hair away from my face as I was blowdrying it.  I included a photo of that in case it doesn't make sense.
Can you use Prime with PHD?
I've seen this question a lot.  I've used Living Proof's Prime on it's own, PHD on it's own, and the two products combined now.  They are both fantastic on their own, but I really, really love using them together.  I just use a tiny amount of both, barely half a pea size, putting the prime on my hair first, then the PHD.  They are both so lightweight that it's not too heavy a combo for my hair and this product combo can make my style last for 3 to 4 days without ANY touchups.  Pretty incredible.  I used to have to touch up my curls or re- flat iron my bangs every day!
I got a blow out using PHD: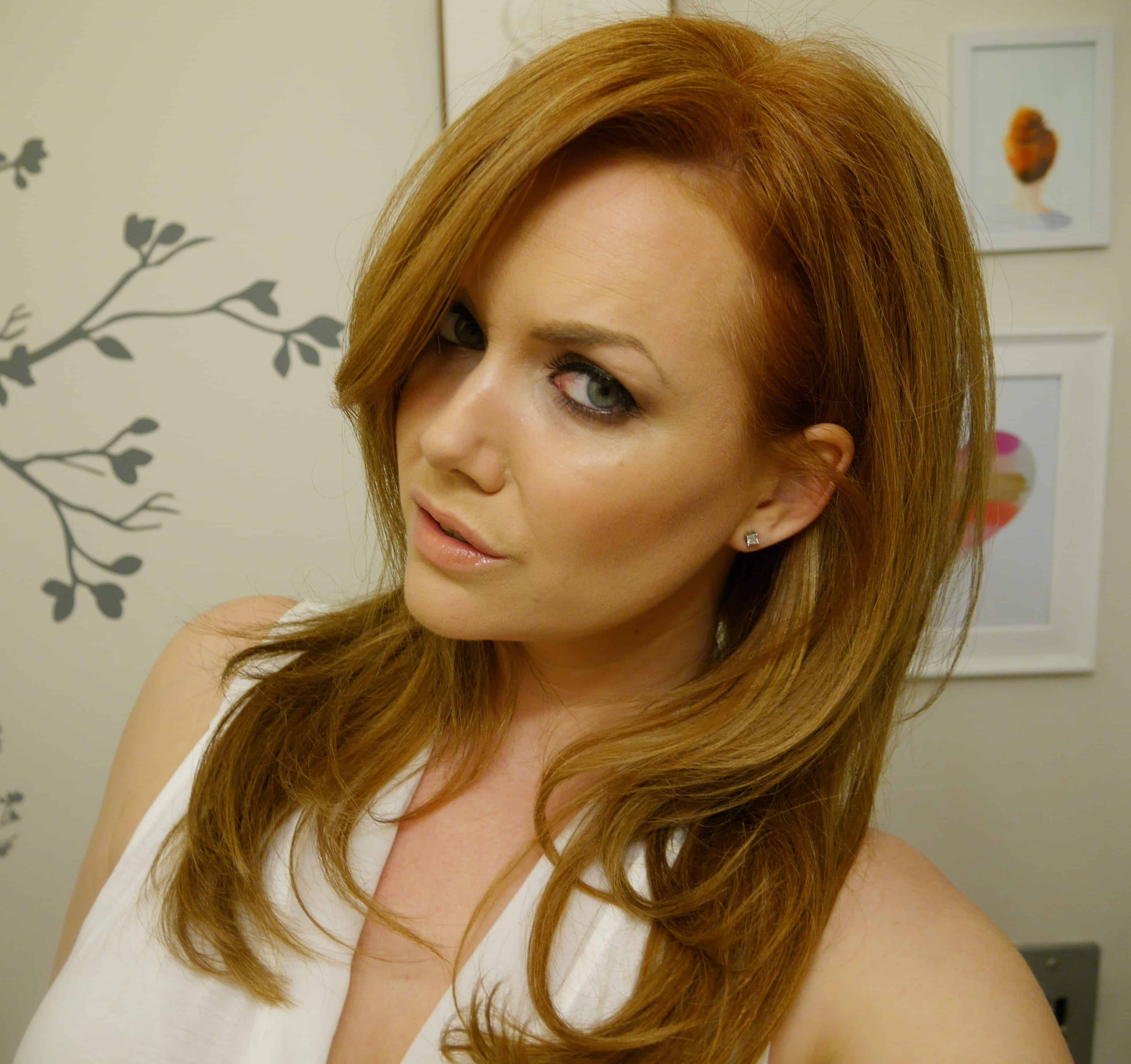 Thank you for reading, please feel free to email to friends and subscribe above!
Stay Glam!