I am so happy to partner with Physician's Formula to review and demo some of their their new products.  I love, love, love me a new product launch.
I have been a long time fan of the Physician's Formula bronzers, because they make a Light Bronze shade, which is so hard to find and extra hard to find at a drugstore price.  And for fair ladies like me, it's nice to be able to get a natural looking tan and not look like you got into mommy's makeup bag.
So… I was super excited to see that they came out with not only a new bronzer in a light shade, but this one has SPF.  All my pale skin ladies, you with me!?
SPF.
SPF 30.
Hot. Damn.
City Glow Daily Defense Bronzer SPF 30 comes in two shades: New York, which is lighter, and Paris, which is medium.  They both contain .38 oz of product and retail for $14.95.  They come in the traditional Physician's Formula packaging with the product on the top and a mirror and brush on the bottom.
Both shades have a "spray over" of gold, which is just meant to catch the eye while shopping.  It's an actual spray of glitter that goes over a pattern on makeup to make it more eye catching in stores.  It comes off in a swipe and then the rest of the product has a natural satin finish which I love.  Satin finishes makes your skin look super healthy and glowing.
Each bronzer has a cute pattern of the city's monuments and skyline, which is a beautiful detail usually found on luxury products.  It's so nice to see it on an affordable product.  I love when makeup itself is beautiful.  Also, each bronzer has two shades, you can wear the lighter top shade or darker bottom shade separately or wear them together.  I've been wearing them swirled together.
"New York" gives the slightest hint of a tan, which is absolutely perfect for me.  It gives a nice glow, without at all looking like I am wearing bronzer.  Medium skin ladies, go for Paris because New York won't show up on you at all.  New York looks darker in the pan, but applies light.  Fair skin ladies, Rejoice.
The bronzers have SPF, but also says they "provides advanced protection against urban environmental aggressors, for the ultimate healthy-looking tan glow. Skin Defending Benefits, Anti-Aging, Anti-Dullness, Anti-Grey, Anti-Stress, Anti-Pollution. City Protection SPF 30."  I'll take it.  I haven't been using it long enough to notice long term benefits, but extra SPF added to a shade that works me is such a huge bonus.
Bottom Line:  I've been wearing the New York shade almost daily.  It's fit seamlessly in with my summer makeup look, which has been CC cream, concealer, bronzer, highlighter, black liner, and mascara.  "Simple" to me, a full face for others, ha!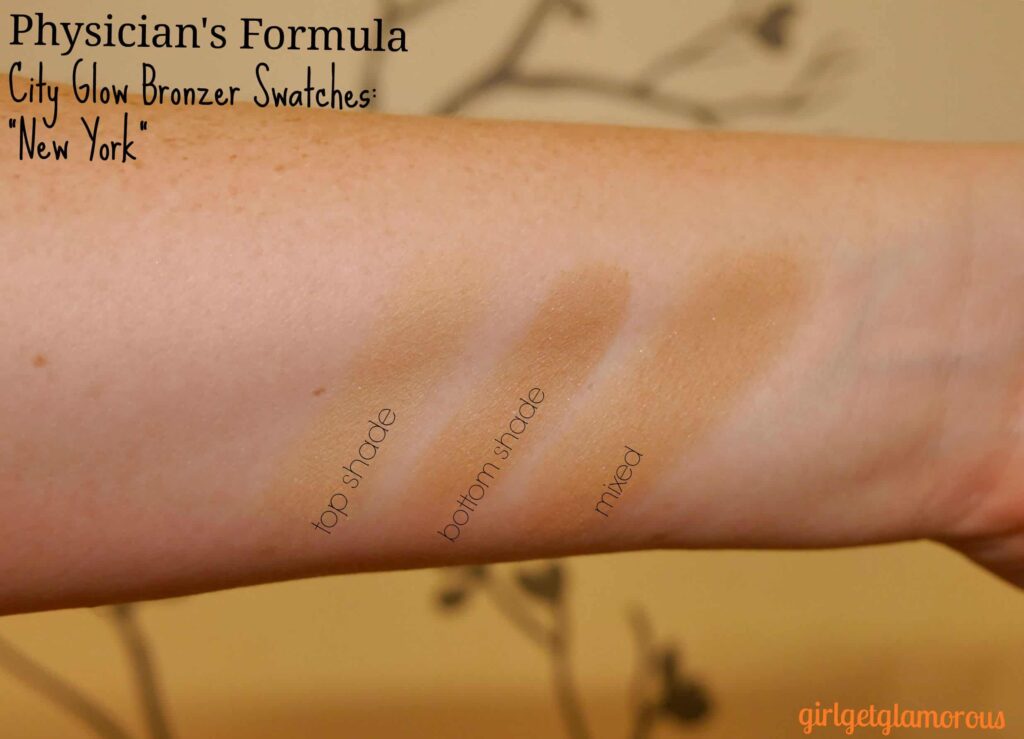 Up next…
Eye Booster Instant Lash Extension Kit.  This kit retails for $14.95 and contains both a traditional mascara and a smaller tube that contains fibers.
How I use it: I start using it by first curling my lashes, then I add one coat of the traditional mascara, then one coat of the fibers, then another coat of mascara to seal in the fibers, then I comb through them with a lash comb.  I finish one side first, then switch to the other side.
Thoughts:
There is a learning curve with this mascara set, but once you have the tricks down it doesn't take me any longer than traditional mascara.
Tip #1 – put your fingers from your free hand under the eye you are applying the fibers too.  The fibers will fall out, so have them fall onto your hand, then wash your hands after.  Instead of having them fall on your cheeks.
Tip #2 – Do one side fully first, then switch to the other.  That way you get the fibers onto the mascara while it's still wet and has grip.  They'll be more effective and last longer this way.
Tip #3 – Don't go crazy with the fibers, a little goes a long way.  I went nuts the first few times, and the fibers ended up irritating my eyes.  I went softer the third time, got super long lashes, and no irritation.
Bottom Line: I wouldn't say this looks like false lashes, but I was really impressed with how my lashes look.  The mascara alone is very impressive. Silky and smooth and made my lashes look great.  Then the fibers gave them volume and added length. Practice once or twice, it's really worth it because it doesn't take that much longer than adding three coats of normal mascara and takes way less time than adding false lashes and you get results right in the middle of those two.
I actually want to try these on top of false lashes sometime, just to see what happens.  I live wildly.
That wraps up my thoughts on the new bronzer and mascara.  Thank you so much for reading!  Do you love new product launches as much as me!?  Any new makeup you'll be trying for fall?
Social Links | Instagram: @girlgetglamorous. Facebook: girlgetglamorous. Youtube: Molly Gardner. Pinterest: girlgetglamorous